New England's picturesque landscapes and vibrant seasons make it a unique and charming place to call home. From the colorful foliage of autumn to the serene snowfalls of winter, the region offers its residents an ever-changing backdrop. However, this picturesque beauty also brings with it a range of weather challenges that can take a toll on your home, particularly your roof.
Your roof is your first line of defense against the elements. Whether it's the heavy snow and ice of winter, the rain and winds of spring, or the scorching summer sun, your roof must withstand it all. In this comprehensive guide, we will explore the impact of New England weather on your roof and provide practical tips to protect it year-round.
The New England Climate
New England's climate is characterized by its diversity. From the coastal regions of Massachusetts to the mountainous terrains of Vermont, the weather can vary significantly. This chapter discusses the different climate zones in the region, highlighting the challenges each presents to your roof. Understanding your local climate is the first step in effective roof protection.
New England experiences a variety of weather conditions throughout the year, from heavy snowfalls to coastal storms. By comprehending the unique challenges of your specific location within the region, you can better prepare your roof for the seasonal changes it will face.
Seasonal Roof Maintenance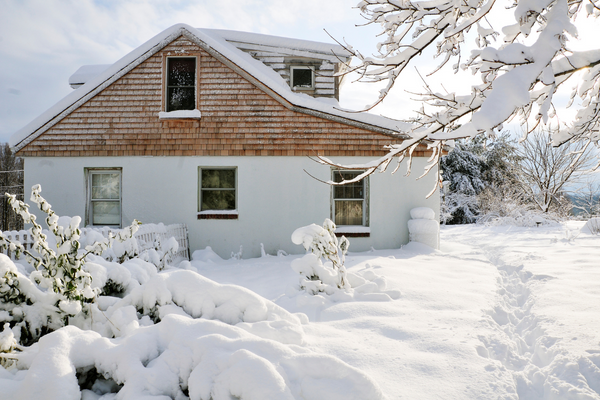 Effective roof protection requires a year-round approach. Each season comes with its own set of maintenance tasks to ensure your roof remains in top condition. This chapter offers a detailed look at the maintenance steps required in each season, from clearing snow in the winter to inspecting for storm damage in the spring.
Regular maintenance is key to extending the lifespan of your roof and preventing costly damage. By following a seasonal maintenance checklist, you can stay ahead of potential issues and keep your roof in excellent condition throughout the year.
Winter Weather and Your Roof
Winter in New England can be harsh, with heavy snow, ice, and freezing temperatures. This chapter discusses the unique challenges posed by winter weather and provides tips on preparing your roof for the cold season. It covers topics like snow removal, ice dam prevention, and the importance of attic insulation.
The winter months can take a toll on your roof. Proper preparation and maintenance are essential to prevent ice dams, leaks, and structural damage. This chapter offers insights into protecting your roof during the most challenging season.
Spring Showers and Roof Leaks
Spring brings rain and rapidly changing weather patterns. This chapter explores how spring showers can impact your roof, from causing leaks to promoting mold and mildew growth. It provides guidance on identifying and addressing potential issues that arise as the snow melts and the rains fall.
Spring rains can lead to roof leaks and water damage if not addressed promptly. By understanding the risks associated with the changing weather, you can take preventive measures to safeguard your roof.
Summer Sun and UV Exposure
Summer in New England can be hot and sunny, and prolonged exposure to the sun's UV rays can affect your roof's longevity. This chapter discusses how UV exposure can lead to roof deterioration and offers solutions to protect your roof during the summer months.
UV exposure can cause roof shingles to deteriorate and lose their protective properties. This chapter provides insights into minimizing the impact of the summer sun on your roof.
Fall Foliage and Gutter Maintenance
Autumn brings vibrant foliage and falling leaves. This chapter explores how clogged gutters, a common issue during the fall, can lead to roof damage and ice dams in the winter. It offers advice on maintaining clean and efficient gutters to protect your roof.
Clogged gutters can lead to water backup and roof damage. This chapter provides guidance on keeping your gutters clear and functioning properly, reducing the risk of damage to your roof.
Storm Preparedness and Roof Protection
New England is prone to coastal storms and severe weather events. This chapter discusses the importance of storm preparedness and offers tips on protecting your roof during storms. It covers topics like securing loose shingles, inspecting for damage, and emergency repairs.
Coastal storms and severe weather events can cause significant roof damage. This chapter provides advice on preparing for storms and minimizing potential harm to your roof.
Conclusion
Your roof is a vital component of your home, and it must withstand the diverse and sometimes extreme weather conditions of New England. By understanding the challenges posed by the region's climate and following a year-round maintenance routine, you can ensure your roof remains in top condition. Regular inspections, preventive measures, and timely repairs are essential to protect your investment and maintain your home's safety and comfort.
As the seasons change and New England weathers its share of climate fluctuations, your proactive approach to roof protection will pay off. From snow-covered winters to stormy autumns and hot summers, your roof will stand strong and resilient. So, embrace the beauty of New England's ever-changing weather, knowing that your roof is ready for whatever Mother Nature brings.