When it comes to modern homes, every detail matters, including the roof. As a homeowner, you want your roof to not only protect your house but also make a statement. Luckily, the world of residential roofing is constantly evolving, offering a range of innovative materials, eco-friendly options, and design elements. In this blog post, we'll explore the top residential roofing trends that can enhance the aesthetics and functionality of your home. Whether you're planning a roof replacement or looking for inspiration, read on to discover the latest trends in residential roofing.
Sustainable Roofing Materials
In recent years, there has been a growing demand for sustainable roofing materials that are environmentally friendly and energy-efficient. Homeowners are increasingly opting for materials such as metal roofs, cool roofs, and recycled roofing materials.
Metal roofs, made from materials like steel or aluminum, are durable, recyclable, and can reflect sunlight, reducing cooling costs. Cool roofs, typically made of light-colored materials or with special coatings, minimize heat absorption and lower energy consumption. Recycled roofing materials, such as rubber or plastic shingles made from recycled materials, are not only eco-friendly but also offer durability and low maintenance.
Solar Roofing
As renewable energy gains popularity, solar roofing has emerged as a top trend for modern homes. Solar panels integrated into the roofing system can harness the power of the sun and convert it into usable electricity for your home. These solar roofing solutions not only reduce your reliance on traditional energy sources but can also save you money in the long run through reduced energy bills and potential tax incentives.
With advancements in technology, solar roofing is becoming more aesthetically pleasing, with options like solar tiles that seamlessly blend with the overall roof design.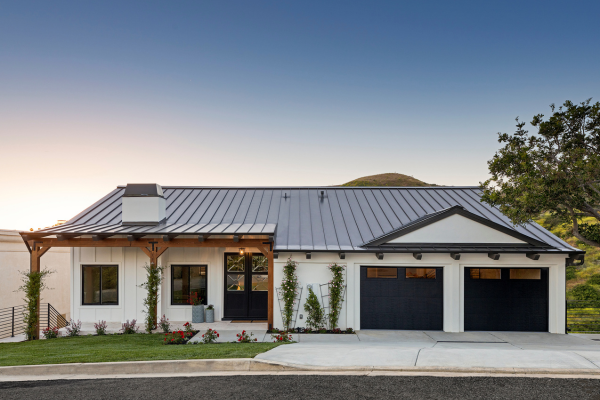 Green Roofs
Green roofs, also known as living roofs or rooftop gardens, have gained traction in urban areas and are now making their way into residential neighborhoods. These roofs are covered with vegetation and offer a range of benefits, including improved insulation, reduced stormwater runoff, and enhanced air quality.
Green roofs provide a natural habitat for plants and insects while adding visual appeal to your home. Homeowners interested in sustainable living and creating a connection with nature can explore this trend for their residential roofs.
Contemporary Roof Designs
Modern homes often feature clean lines, minimalist aesthetics, and unique roof designs. Flat roofs with parapet walls, asymmetrical rooflines, and bold geometric shapes are becoming increasingly popular.
These contemporary roof designs offer a striking visual element, adding character and style to the overall architecture of the home. Additionally, flat roofs can provide additional usable space for rooftop decks, gardens, or solar panel installations.
Smart Roofing Technology
In the era of smart homes, it's no surprise that roofing technology has joined the game. Smart roofing solutions offer homeowners greater control, convenience, and energy efficiency. From smart roof ventilation systems that adjust airflow based on weather conditions to automated sensors that detect leaks and provide real-time alerts, these technologies are revolutionizing the residential roofing industry.
Integrating smart roofing features can improve energy efficiency, reduce maintenance costs, and enhance the overall comfort of your home.
Conclusion
When it comes to modern homes, the roof plays a crucial role in both functionality and aesthetics. By staying up to date with the latest residential roofing trends, homeowners can make informed decisions when it comes to roof replacements or upgrades. Whether you're looking for sustainable materials, energy-efficient solutions, contemporary designs, or smart roofing technology, there's a trend to suit every homeowner's preferences. Consult with a professional roofing contractor to explore these trends further and determine the best options for your home.