New England is known for its picturesque landscapes, vibrant seasons, and historic charm. However, it's also no stranger to extreme weather conditions, from severe winter storms to summer hurricanes. With climate change causing more frequent and intense weather events, homeowners in New England must take proactive steps to safeguard their properties. One crucial aspect of home protection is the roof, which acts as the first line of defense against the elements. In this guide, we'll explore storm-resistant roofing materials and construction techniques to help you protect your home from extreme weather.
Understanding the Threat
New England's weather can be quite diverse, with a range of weather events that pose a threat to your home's roof. These include:
Winter Snow and Ice
New England winters often bring heavy snowfall and freezing temperatures. The weight of accumulated snow and ice can stress a roof's structural integrity and create the risk of ice dams, which can lead to water infiltration.
High Winds
Severe storms and hurricanes can bring strong winds that may damage or uplift roofing materials. This can lead to leaks, shingle damage, and, in extreme cases, complete roof failure.
Heavy Rainfall
Prolonged periods of heavy rain can result in water intrusion, especially if roofing materials have deteriorated or if there are existing vulnerabilities in the roof.
Hail
Hailstorms are relatively common in some parts of New England. Hail can cause significant damage to roofing materials, leaving them susceptible to leaks.
Extreme Temperatures
New England experiences temperature fluctuations, from extreme cold in the winter to hot and humid summers. These variations can impact the longevity of roofing materials.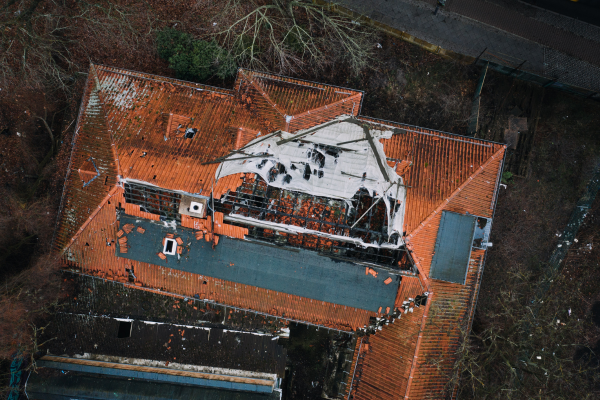 Storm-Resistant Roofing Materials
Choosing the right roofing materials is the first step in creating a storm-resistant roof. Here are some options to consider:
1. Asphalt Shingles
Asphalt shingles are a popular choice due to their affordability and durability. When selecting asphalt shingles for storm resistance, look for models with a high wind rating, typically those rated for 110 mph or higher. Additionally, impact-resistant shingles can help protect against hail damage.
2. Metal Roofing
Metal roofing, such as steel, aluminum, or copper, is highly durable and can withstand strong winds and heavy rain. These roofs are often impact-resistant and can last for several decades.
3. Slate or Tile
Slate and tile roofing materials are renowned for their durability and ability to withstand extreme weather. They are fire-resistant, wind-resistant, and highly resistant to hail damage.
4. Synthetic Roofing Materials
Modern advancements have led to the development of synthetic roofing materials that mimic the appearance of traditional options like wood, slate, and tile. These materials often offer excellent storm resistance.
5. Impact-Resistant Underlayment
Consider using impact-resistant underlayment beneath your roofing materials. This added layer provides extra protection against hail and falling debris.
Storm-Resistant Construction Techniques
The choice of roofing materials is essential, but the construction techniques are equally important. Here are some techniques that can enhance the storm resistance of your roof:
1. Professional Installation
Always hire experienced roofing contractors to install or replace your roof. Proper installation is critical for the long-term performance of your roof.
2. Sealed Roof Deck
A sealed roof deck prevents water intrusion and helps maintain the integrity of your roof. Proper sealing is especially important in areas prone to heavy rainfall.
3. Reinforced Roof Structure
If you live in an area susceptible to high winds, consider reinforcing your roof's structure. Truss and rafter bracing can help the roof withstand wind pressure.
4. Secure Roof Fastening
Using the correct fasteners and ensuring they are securely attached can help prevent shingle or tile loss during strong winds.
5. Regular Maintenance
Regular roof inspections and maintenance are essential for storm readiness. Addressing minor issues promptly can prevent more significant problems during a storm.
Storm-Resistant Roofing Testing and Ratings
To help homeowners make informed decisions about storm-resistant roofing, various organizations conduct tests and provide ratings for roofing materials. Here are a few key ratings to look for:
1. Wind Resistance
Materials with a wind resistance rating of 110 mph or higher are considered suitable for areas prone to strong winds and storms.
2. Impact Resistance
The UL 2218 impact resistance rating classifies roofing materials on a scale from Class 1 to Class 4, with Class 4 being the most impact-resistant. Class 4 materials are capable of withstanding severe hail.
3. Fire Resistance
Fire-resistant roofing materials are essential for areas prone to wildfires. These materials have Class A, B, or C ratings, with Class A being the most fire-resistant.
4. UL Listing
UL-listed roofing materials have undergone rigorous testing for various factors, including fire resistance and wind uplift.
Conclusion
As extreme weather events become more frequent and severe, storm-resistant roofing is a critical aspect of protecting your home. By choosing the right roofing materials, employing storm-resistant construction techniques, and staying informed about ratings and certifications, you can enhance your home's ability to withstand the elements.
For professional guidance on storm-resistant roofing solutions in New England, TJR Construction is here to help. We have the expertise to assess your home's specific needs and provide recommendations that ensure your roof's resilience against extreme weather. Don't wait until the next storm; take proactive steps to protect your home and loved ones by investing in a storm-resistant roof.